"Amma! Where is my Hulk mask? I want it now. I want to kill a mosquito!" Naman, my three-year-old son, shouts at the top of his voice from the living room while I am in the middle of a serious discussion on WebEx. I grit my teeth amidst barely suppressed giggles.
This is probably the scenario all working professionals who have set up offices at their homes face—no one is spared. The Internet is flooded with videos and photos of people trying to navigate through these "obstacles" while adjusting to this new reality.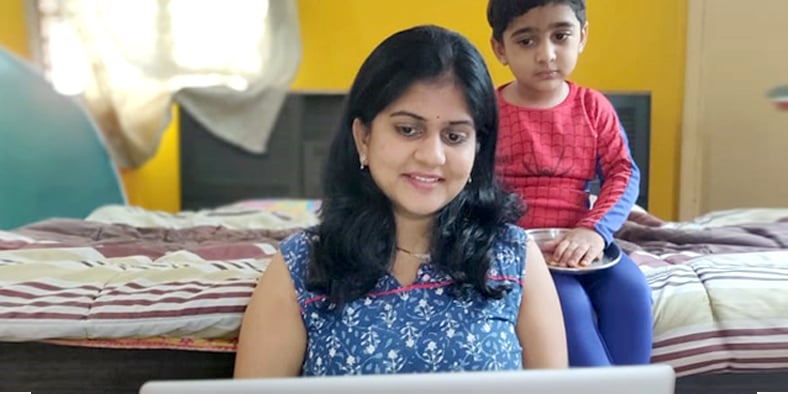 Despite all the disappointing news we hear each day, somewhere deep down, the lockdown over the last few months, feels like a blessing. All of us have a break from the typical wake-eat-work-sleep-repeat cycle. In fact, I could not contain my excitement when my manager declared that teammates who use public transport could work from home (WFH). This happened a few days before the Government announced the nationwide lockdown. With this WFH opportunity, I finally felt I could do it all—ensure my office projects are under control as well as spend time with my loved ones.
I imagined about starting my day without having to think about packing lunch and breakfast on time, wondering if I would get a seat on the metro, or if I would have to stand amidst the crowd the entire way. In honesty, most days I wouldn't even have time to think of what to wear to office! Yes, it all sounded fascinating until the lockdown was announced, and we decided to give our house help paid leave.
It struck me that this was the time to identify and utilize potential skills of each family member. For example, my husband, who is a fitness freak, didn't get to choose what chore he had to do. It went without saying that he would be sweeping, mopping, and doing the dishes. My in-laws being very kid-friendly, volunteered to keep my son engaged. I decided to take care of the rest.
Other than the long commute to work, nothing much has changed in the WFH setup for me. People rightly say it is work "for" home while you work "from" home. We wake up earlier than usual to ensure that the day's cooking and other chores are completed before my husband (a Project Manager at an IT firm) and I lock ourselves in two different rooms to start the work day.
When life demands a reset from its routine, it takes time to adjust. In the beginning, although I would lock myself in the room where I had set-up my workstation, my mind would be preoccupied with other housework. It was not a complete cutoff, which is undoubtedly the case when I am in the office.
In an office environment, work is relatively easy as communication is across the table, and decisions are quick. As WFH was novel, it took a while to accept the new normal and adjust to it. Fortunately, WebEx and Skype have made our work lives and especially communication effortless! We have been able to ensure business goes on as usual. While there exist challenges, over time, we have managed to strike a balance, and can safely say that we love it. WFH has truly been a positive experience.
The commute is shorter—living room to the bedroom—and the cafeteria is right next door! Although the co-workers are not in their best workwear, there is always an "at home" vibe. Above all this, the smile that my son gives me when I tell him that there is no school, and I am working from home is priceless!