For most of us, the COVID-19 pandemic had a transformative impact, making us look at life from a different perspective.
In our zeal to acquire more and more, sometimes we overlook the plight of others. In India, the lockdown in the past few months affected migrant laborers in the worst possible way. These are daily wage earners who were employed by factories, construction sites, and households, among others. The lockdown left them jobless, homeless, penniless, and hopeless. Given the situation, the migrant community was left with little option but to return to their villages in remote parts of the country.
Yet, returning home was not an easy feat—trains and buses were grounded, and all interstate travel was banned under the lockdown regulations. This led to a massive crisis for thousands of migrants, stranded at various bus terminals and railway stations without food, transport, and shelter. Several thousand subsequently decided to make the journey to their villages on foot. It was a gut-wrenching sight to see droves of families, young and old, children and women, on the highways braving the scorching summer sun, walking barefoot for miles on end with no place to rest or food to eat, but yet, they soldiered on.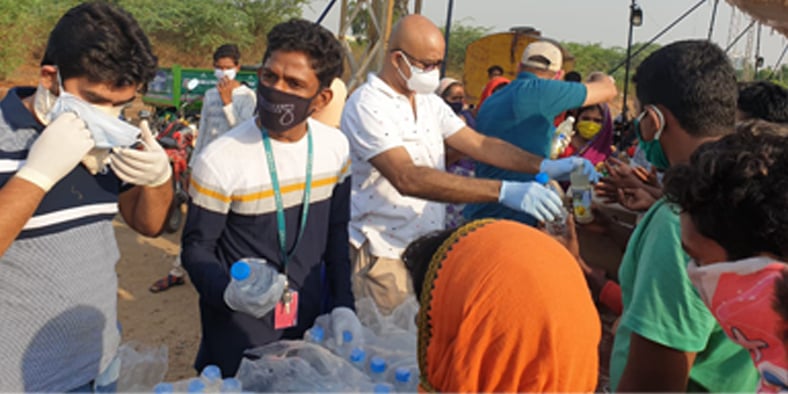 Seeing and hearing about the plight of the migrants left a profound impact on me. Given the scale of the situation, it required the collective effort of a multitude of agencies, bodies, and individuals to resolve. My colleagues and I, from the RRSTP team, felt compelled to do our little bit. With contributions from the entire team, we had purchased 500 bottles of water, lemon juice, buttermilk, soft drinks, and a carton of biscuits and distributed them to the migrant workers on the morning of May 25th along the NH44 in Hyderabad. While some of us purchased and distributed the food items, other team members joined the effort as generous contributors.
In this situation, I not only learned to appreciate all my blessings but also realized that every effort, small or big, counts. As the well-known poem, Little Things by Julia Carney goes, "it is the little drops of water… that finally make the mighty ocean."